油罐浮动出油装置(FYZ) OIL TANK SWING SWPIES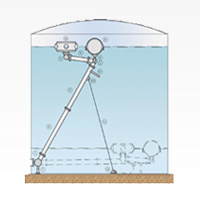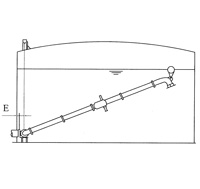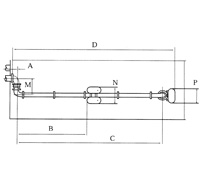 油罐浮动出油装置适用于各类卧式,立式储罐使用,其一端连于油罐底部出油短管上,另一端同浮筒吊在液面下,并随液面升降而浮动,始终抽取表面燃油,由于水分、杂质在重力场的沉降作用,上层燃油的水分和杂质始终低于底部油层。因此,使用油罐浮动出油装置,抽取上层燃油,能保证发出较洁净的燃油,延长下游净化设备的使用寿命。
Oil Tank swing line series can be set in various horizontal or vertical fuel oil tanks. In the oil tank,one end of swing line is connected with oil outlet nozzle at the bottom tank shell course another end(the suction of swing line)is hung by float under liquid level. The suction of swing line is floating up and when liquid level is rising and falling,so tha the fuel oil supplied from the tank is always in upper layer. As the water and impurity have fallen as gravily,the fule oil in upper layer is cleaner than that in lower layer. So using the swing line can confirms the cleaner fule oil to be supplied and the downstream cleaning equipment to be operated longer.
油罐浮动出油装置"性能特点":
Characteristics
1、适于介质:航空煤油、汽油、柴油等。
The swing line used for aviation kerosene,Gasoline,disesl oil and so on
2、公称直径:
DN50-300Nominsl diameter:DN50mm-300mm
3、公称压力:PN1.6Mpa
Nominsl pressure:PN1.6Mpa
4、上举摆觉:650
Max. Up rotating angle650
5、拆装要求:结构组成部件,能从油罐入孔出入
The swing line can be separated into several Compartments which can be delivered into out of the oil tank through shell manhole
6、本设备具有防涡流措施和自渗出罐油功
The swing line has anti-vortex device and self-Penetration device,so that fule oil can be filled into and sent out ofthe tank through swing line
油罐浮动出油装置"订货参数":
Technical parameters ordered by user
1、油罐类型(立式或卧式) Tank type(horizontal or vertical)
2、出油管口径(外径壁厚) Diameter of oil outlet nozzle(outside diameter&Wall thickness)
3、出口管法兰的公称压力及标准 Nominal pressure of the flange of oil outlet nozzle and standards
4、油罐内径 Tank inside diameter
5、油罐装油高度 Liquid level in oil tank
6、油罐罐底坡度 Slope of tank bottom
7、出口管中心距罐底部高度 Elevation of oil outlet nozzle
油罐浮动出油装置"产品用途" product use
1. 安装在储油罐内,和罐壁出油管连接达到防止罐底污水及化学、机械杂质与油料混合出罐,保证油罐向外供油的纯净度;
is installed in the oil storage tank, and tank wall outlet connected to prevent the tank bottom water and chemical, mechanical impurities and oil mixing tank, to ensure the purity of outward oil tank;
2. 做高位液下进油管使用;
Do high liquid inlet pipe use.
3. 适用于国内外油品储运、油田、石油化工、电力、冶金、航空及轻工、食品等行业各类储罐。
Applies to all domestic and foreign oil storage and transportation, oil, petrochemical, electric power, metallurgy, aviation, light industry, food and other industries of various types of tanks.
油罐浮动出油装置"结构及原理" Structure and principle
1. 设备由回转机构、回转臂(输油管)、浮子、仪表等四个部分组成;
The equipment consists of a rotating mechanism, the rotary arm (pipeline), the four part of the float, instrument etc.
2. 回转机构通过法兰与罐壁接管连接;
The rotary mechanism is connected through the flange and pipe wall.
3. 回转臂(输油管)一端链接回转机构,另一端链接浮子;
Rotary arm (pipeline) rotary end link, the other end of the link.
4. 油罐进油或出油时,液位上升或下降,浮子也跟着上升和下降,浮子一端因为链接回转臂(输油管)而带动回转臂(输油管)跟着做上下回转运动;
The tank into the oil or the oil, liquid level rise or fall, the float followed up and down, float end because link rotary arm (pipeline) to drive the rotary arm (pipeline) follow up and down motion.
5. 本装置可在浮顶罐内安装使用,上端与浮顶连接,由浮顶带动实现浮动出油。
The device can be installed and used in floating roof tank, and the upper end of the floating roof connected by floating roof to achieve floating oil
油罐浮动出油装置"主要技术指标" The main technical indicators

产品型号:FD-AB/S
符号含义:FD 产品代号,A为公称直径,B为罐容积,S 带仪表。
Symbolic meaning: FD product code, A nominal diameter, B tank, S instrument.
产品公称直径:DN25-700 设计温度:液体流动温度——210℃
Product nominal diameter: DN25-700 design temperature: the temperature of 210 ℃ liquid flow
设计压力:0.6MPa
Design pressure: 0.6MPa
浮动出油高度:0.1-32m
Floating oil height: 0.1-32m
法兰标准 (可由用户指定)
Corrosion resistance: resistance to chloride ion CL-, H2S corrosion and acid.
Flange standard (to be specified by the user)
防腐蚀性能:抗氯离子CL-、H2S腐蚀及酸碱